River Deben • Suffolk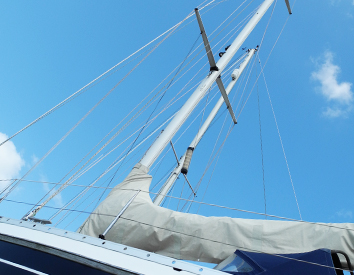 Rigging & Spar Making
We have been rigging vessels for over 30 years using high quality materials from reputable companies such as Stalok, Hasselfors, Navtec and BSI. We have a purpose built 60ft long rigging loft in which we carry out our rigging work with the latest available equipment to ensure the highest quality.

We also make new solid or hollow wooden masts, and can also carry out repairs to existing wooden masts. Our setup also allows us to handle finished aluminium masts from bare sections to completion including running rigging, standing rigging, lighting and instrumentation, and we are skilled in the finishing of carbon poles, booms and masts.

Marine and Architectural Rigging

• Standing rigging using 1 x 19 SS wire,
7x7 SS wire, 7 x 19 wire, dyform and
galvanised wire.
• 1m - 12mm Swage and Talurite termination.
• Mobile services and mast transport available.

• Running rigging halyards, sheets and warps.
• Braided traditional dyneema and cruising
dyneema splicing.
• Sail control systems.

Deben Way • Wilford Bridge Road • Melton IP12 1RS
We have fitted furling gears for both genoa and mainsails using the following suppliers: Furlex, Sailspar, Facnor, Plastimo, Rotostay and Shcafer.

Please contact us to discuss your requirements.